I know. I know. Last week I said I was finished with my preview series. After all, the last post was relief pitchers. How could that ever be topped? But I would be remiss to leave out the most consistent performer of the Phillies. Game after game, this person(?) contributes to the team in ways that nobody else can. I'm talking, of course, about the Phillie Phanatic.
This Galapagos native has brought joy to the Phillies for 39 years. The state of the Phillies was a sorry one at the time. No World Series trophies and a franchise winning percentage of 0.460 (A 74 win pace over 162 games). On April 25, 1978, everything changed.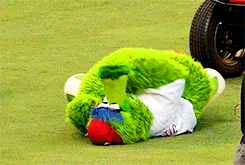 Aside from winning over fans and rivals alike (well, most rivals), the Phanatic's presence has a real impact on the team's winning. The franchise's winning percentage jumps up to just above .500 since his arrival (3,093-3,090). That's before even mentioning the five pennants the Phillies have won since 1978 (out of the franchise's seven total). Or the two World Series trophies, the first two ever in the franchise. "But wait", you might be wondering. "Why are you bringing up winning percentage? The Phanatic doesn't travel with the team. How could he impact road games? This is ridiculous."
A good point, but one that reveals your lack of faith in our green baseball boy. From 1901 to April 24, 1978, the Phillies ran a home winning percentage of .486. An improvement of .027 compared with their overall winning percentage. Since April 25, 1978, the Phillies have a home winning percentage of 0.540. That's the highest number we've seen yet, and .040 better than their overall winning percentage in that span. Home field advantage is a real, measurable, and inexplicable thing, but note there's a sizeable gap between pre-Phanatic and post-Phanatic in the observed home field advantage. That difference  (0.040-0.027 = 0.013) is what I propose be known as "the Phanatic factor". Extrapolate this out to 162 games, and we can measure that the Phanatic has been worth about 2 wins per year. That's about infinity percent better than any other mascot in the majors.
That is just the tip of the iceberg when it comes to the Phanatic's magical powers. The Phillies franchise immediately recognized how valuable this mascot was, and began an annual celebration of his birthday starting in 1979. The exact date of which is ethereal, but it tends to land on a Sunday in late April. I did some extensive digging to find the day every year since 1978 they've celebrated his birthday. First, I checked the official Phillies website. That only got me back to 2009. With some further googling, I was able to get back to 2003…but that still left 1978-2002. I reached out to the Phillies on Twitter for help. No reply. What were they hiding? I took my search to an unusual place. The land of hoarders and haunted dolls – eBay. Along with free ticket vouchers from hot dog packages, there were a surprising amount of Phillies Pocket Schedules on sale – the kind most people accidentally run through the washing machine. By a stroke of luck, many of the pictures of these were high resolution enough to read the promotions and the days they occurred on. Jackpot.
Through trial and error, I was able to put together a list of every Phanatic birthday celebration from 1978 to 2016. Then using baseball reference, I looked at the results for every one of these games. The results were astonishing. In those 39 games, the Phillies managed to win 30 of them. If they were to play an entire season of "Phanatic birthday celebrations", they would win 125 games, easily an MLB record. The most amazing of these wins occurred on April 27, 2003, when Kevin Millwood threw a no-hitter. There have been 190,455 games played in the majors since 1900, and 295 of them are officially recognized as no-hitters. That means that 0.15% of games are no-hitters…unless they are Phanatic Birthday celebrations, in which case 2.56% of the time it's a no-hitter. If the Phillies are celebrating the Phanatic's birthday, they are 1,655% more likely to throw a no-hitter. That's just math.
Wins, losses, and championships aside – What does the Phanatic do? Bring us hope. Even on the most blow-outingest nights, the Phanatic's antics are enough to melt the hardened hearts of Philadelphians. And that is worth celebrating, on April Fool's day or any other day.