For a number of years, the Phillies were blessed to have a talented core of players to build around. Players the team could depend on; players that fans could rally around and cheer for. Of the cheers (and occasional jeers) thrown toward those Phillies Phixtures, perhaps none were more iconic than the drawn-out, I'm-not-booing "Chooch" cheer. The days of that classic cheer echoing throughout Citizens Bank Park came to an end in 2016, leaving a metaphorical hole behind home plate. With last season largely being a transition year, 2018 might be the year when the next long-term solution at catcher emerges. Let's take a look at the candidates for that position.
Previous Posts –
1B and 3B
2B and SS
Catcher
Jorge Alfaro
The odds-on favorite to win the starting job, Alfaro still comes with some question marks. The surface numbers he put up in limited playing time last year were encouraging – .318/.360/.514 is an All-Star caliber triple slash line. Dig beyond that surface, though, and red flags begin to pop up almost immediately. Out of 429 players with a minimum 110 PA in 2017, here's where Alfaro ranked. (Reminder – about 215th would be average).
28.9% Strikeout Rate,

60th Worst.

2.6% Walk Rate,

6th Worst

.
.420 BABIP,

Highest. (Read: REGRESSION IS COMING)

21.7% Swinging Strike Rate,

Worst.

.242 xBA, 76 points below his .318 BA is the

3rd largest difference

.
Bad. Badder. Badderest. Not what you'd like to see out of your "catcher of the future". The biggest issue is his plate discipline – he swung at 61.9% of the pitches he saw (highest in baseball) and made contact with 64.9% of them (14th lowest). It's rare for a player to swing so often and make such infrequent contact. In fact: since 2006, there are 5,187 player seasons with at least 110 PA. The difference between Alfaro's Swing and Contact rates (3.0%) ranks lowest. His absolute lack of plate discipline is unprecedented.
What can we expect in 2018? Alfaro has strong arm and his home runs are majestic, but those tools are only going to carry him so far. Unless he familiarizes himself with the concept of "patience", the path he's on is doomed to fail.
Cameron Rupp
Ruppies puppies! Ruppies puppies! Last year's opening day starter might be this year's third-stringer, which speaks more to the (perceived) talents of Alfaro and Knapp than the deficiencies of Rupp. Rupp put together decent numbers at the plate – his 14 homers and a 10.3% walk rate helped buoy him against his Howard-esque 34.4% strikeout rate (highest among position players on the team). Taken as a whole, there's nothing eye-popping nor groan-inducing about his offense.
His defense rates somewhere between "mediocre" and "warm body". By DRS (an all-in-one defensive statistic, see: defensive runs saved), Rupp rated as the 2nd worst catcher. Important to note: DRS doesn't include pitch framing. Every pitch caught is a potential framing opportunity – preserving strikes that are in the zone and stealing them from outside the zone are the most important aspects of a catcher's job. Here, Rupp ranks (*drumroll*) 108th out of 110 catchers. (*sad trombone*). EEeeeeeeyikes. Let's go back to those dog pictures.
What can we expect in 2018? Rupp was a solid bridge between Ruiz and the next starting catcher, but his time as the starter is over. Expect him to compete for the back up job with Knapp. If he loses, he'll likely make the bench as a pinch hitter.
Andrew Knapp
Long live the 'stache.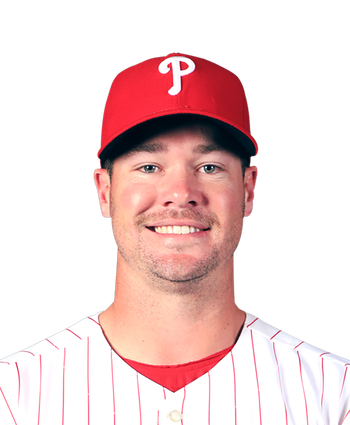 Knapp rounds out the trio of catchers hoping to prove their worth in 2018. Whether there will be enough playing time for each of them to do so remains to be seen, but Knapp has as good a chance as any of them to perform well and stick. Knapp's walk rate and BABIP were both high in 2017 (15.2% and .360, respectively), but I expect his walk rate to regress more than his BABIP. Why? Isn't BABIP more prone to fluctuation than plate discipline? Well, yes – but his previous career best walk rate was 10.3%, and that was at High-A. Meanwhile, he's regularly run high BABIPs throughout his minor league career. This is likely due to his relative speed – at 27.2 ft/s, he's among the fastest catchers in baseball (granted, not a position known for speedy players).
There's not too much more to say about Knapp. He's O.K. defensively, fast for a catcher, and just 26 years old. His 2017 debut went well and I wouldn't be surprised if the Phillies decide to carry three catchers on the roster as a result.
What can we expect in 2018? Don't sleep on Knapp. If Alfaro struggles (and if he continues swinging wildly, he will), Knapp's combination of performance and potential could have him leapfrogging Rupp and stepping in as the starter. That being said, Knapp still possesses minor league options, and given that he's not any more appealing than Alfaro or Rupp, that makes him the most "expendable" of the three (if they decide to only keep two catchers in the bigs).