What. An. Offseason.
The Phillies ended 2018 with an 80-82 record – their most wins since 2012, but still a disappointment given how hard they slumped in September. Even with that improved outlook, they had several concerns-
Rhys Hoskins was an unmitigated disaster in left field.
Despite solid power and defense, Jorge Alfaro approach at the plate was exploitable.
J.P. Crawford was cold and then injured, leaving Scott Kingery as the everyday shortstop last year. His offense never materialized and his glovework was about what you'd expect from an athletic second baseman shoehorned into the role.
Nick Williams and Aaron Altherr, despite some hot streaks, were below average.
Carlos Santana walked a lot and hit a decent number of home runs but still failed to reach the offensive heights of an average first baseman.
The defense. The defense. The defeeeeeeense.
The front office, well….they took care of it.
Carlos Santana and J.P. Crawford were traded to the Mariners for Jean Segura, which improved them at first base and shortstop.
Jorge Alfaro and Sixto Sanchez were traded to the Marlins for J.T. Realmuto, improving them at catcher.
The front office signed Andrew McCutchen, improving them in left field.
Also joining the Phillies is David Robertson, who shores up the back end of the bullpen.
For good measure, Aaron Nola was extended.
That was pretty much it. They did a good job.
…
Oh yeah
Also
THIS GUY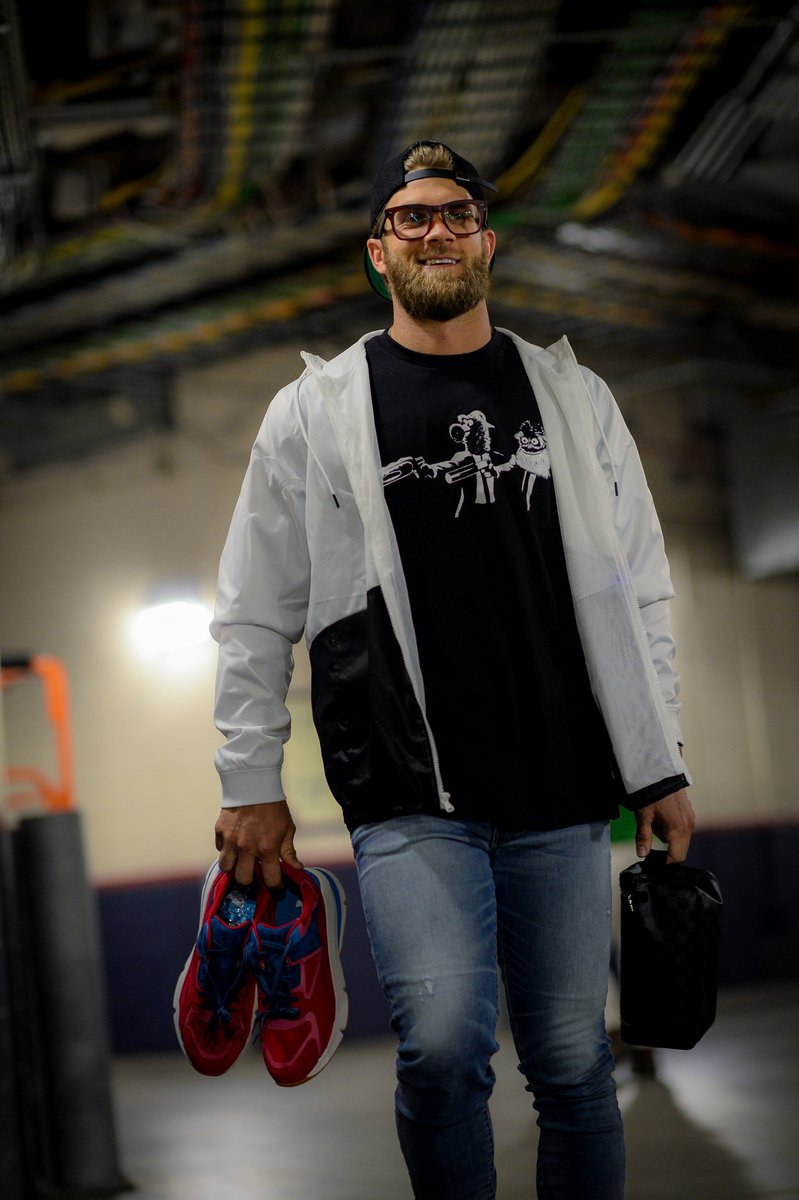 For 13 years and $330 million dollars,
THE PHILLIES
DONE
GOT
BETTER!
If last year they won 80, this year they can win 90+ and make it to the postseason for the first time since 2011. After that, all bets are off.
Here's a look at the roster
Let's break. it. down.
Starting Pitchers
Aaron Nola – He's your ace. You know him. You love him. He's young and talented and there's no reason to think he won't be in the Cy Young award race again.
Jake Arrieta – #2 pitcher looking better this spring than he was all of last year. His pitches are whiffling – every year players talk about the improvements they made in the offseason, but Arrieta might actually be better this year than last.
Nick Pivetta – His 4.77 ERA last year was a product of the historically awful defense that played behind him. If he maintains his stellar K-BB%, he could post a sub-3.5 ERA.
Vince Velasquez – At times, he looks almost like an ace. At other times, he looks like he doesn't belong on the major league roster. Let's hope it's more of the former and less of the latter this year. High K's, low innings.
Zach Eflin – Rounds out the "Blame the Defense" trio. Eflin added velocity last year, and nearly doubled his strikeouts in the process. I don't know what else to say about him – I feel like any of Pivetta, Velasquez, and Eflin could take a massive step forward or regress to replacement level. There's a lot to like and a few question marks with each of them.
Relief Pitchers
Seranthony Dominguez – He can hit triple digits with his fastball, and looked superb last year – until the workload caught up with him. He has more help in the bullpen, so it should be a better year for him.
David Robertson – An excellent reliever. 60+ IP from 2010-2018…excellent strikeout and walk numbers…his presence does more than just solidify the bullpen – he will be pushing Seranthony for the closer's role.
Hector Neris – Neris was awful last year. So much so, he went from "closer" to "Lehigh Valley". Whatever he did at Lehigh Valley worked – after being called back up, he had a 2.04 ERA and an unreal 0.05 FIP (thanks to 35 strikeouts and only 5 walks in 17.2 IP). When you hear his name, think of this Neris, not the Bad Neris.
Pat Neshek – He missed half of the 2018 season with injuries. Although he limited damage in most of his appearances upon his return, his HR rate and strikeout numbers were doubled and halved, respectively. Hopefully a healthy offseason helps him look more like 2017 Neshek.
José Alvarez and Adam Morgan – The only two left handed pitchers on the entire roster. Morgan was fine last year. Alvarez was somewhere between good and great. Nothing too exciting here – though Morgan will sometimes fill in as the long reliever, if needed.
Juan Nicasio and Edubray Ramos – I'm grouping these guys together because they are both right-handed relievers that are solid though unspectacular. Ramos might get some late inning work, Nicasio probably won't… They're bullpen pitchers, these blurbs can't all be exciting.
Infielders
Rhys "The Beast" Hoskins – He's gonna clobber 35+ homers, four man outfield be damned. Also he's not playing left field anymore! Hooray!
Cesar Hernandez – Probably the most underrated Phillie. That he's batting lower in the order is more of a reflection of how much better this offense is this year. I'm hoping to see more stolen bases this year, especially since he was playing through a broken foot for half of last year.
Jean Segura – An actual competent shortstop. That should be enough to get you excited. To take things further – He's never fallen below 20 stolen bases since becoming a full-time player in 2013. He's hit over .300 in each of the last 3 seasons – and with some pop as well (averaging 13 HR/Season). Good player, and a great improvement over last year.
Maikel Franco – Come on buddy, this is your year. I know it.
J.T. Realmuto – The best catcher in baseball. Don't @ me. He hit 20+ home runs last year for the first time in his career, but if spring training is anything to go by, it won't be his last.
Scott Kingery – Too passive for his own good. He tried hard as hell last year at improving his defense, but it wasn't enough – he was still out of his element on the left side of the diamond, and his offensive outburst at AAA didn't carry over to the majors. Until he proves last year was a fluke, he'll be penciled in as the super utility guy.
Andrew Knapp – I'd rather take a nap than write this, harhar. He'll afford Realmuto some off days. Just don't expect him to look good doing it.
Outfielders
Bryce Harper – AHHHHHHHHHH He picked us! Pencil him in for a .900 OPS, a defensive rebound, and loads of 'tude. His presence on the roster makes us playoff threats.
Odubel Herrera – Last year was a huge regression – and he was still about average at the plate. Defensive stats are notoriously volatile – don't buy into him being a below average defender. He has too long of a track record to think that.
Andrew McCutchen – Harper was the guy you loved to hate. McCutchen was the guy you loved to love. He's on the wrong side of 30 but he still takes his walks and produces at the plate. He should handle a move to left field quite well. On top of what he brings on the field, he's also a clubhouse leader – which should help guide the young team back to winning ways should they falter.
Aaron Altherr and Nick Williams – Both players have shown incredible potential so far in their careers but have yet to put it together over a full campaign. I love what both of these guys can do, but it's a suddenly crowded outfield – who's earned a spot on the roster once Roman Quinn returns from the IL?
---
Those are your 2019 Philadelphia Phillies! It's going to be a great year. I'm predicting 91 wins and a division title for this team. I'll be doing my weekly recaps once again – please come along for the ride!